Tracking energy savings
NPIL is furthering its already impressive track record in energy savings, with the employment of an Efficiency Engineer part funded by the Energy Efficiency and Conservation Authority. Reece Clements has an overall goal of saving NPIL two gigawatt hours of energy in his two years with the company.  To make this job more accurate NPIL invested in two hi-tech data-loggers that are now gathering robust data on how much power is used by any selected machinery. The data-logger reveals where worthwhile efficiencies can be made on plant, often to be replicated elsewhere in the factory.
NPIL was collecting energy use data before, but with the data-loggers the company can now verify savings more easily and set targets for further savings in energy use.
June 21st, 2018
New Nelson Airport Terminal
The new terminal at Nelson Airport will be a gateway to the city that tells a story of one of the Nelson region's biggest primary sectors, the timber industry, and the NPIL role in processing plantation Pinus radiata.
There are two aspects to the radical design. The first is the particular way the building is being constructed to be earthquake proof. The beams are all attached using special RSFJ Moment Resisting Frame connectors developed and part-funded by the University of Auckland. It's an innovative New Zealand technology that is solid in normal circumstances but flexes in the 'moment' of an earthquake and allows the building to move – thereby resisting any damage.
The second radical design aspect is the look of the building, with the glass walls front and back allowing passengers to look through to the Nelson hills. The repeating peaks of the roofline are designed to complement the view of our local landscape. To make that shape possible the engineers have designed a series of composite triangles.
All these components are being precision machined utilising hot-pressed and cold-pressed NelsonPine LVL.
The first stage of the new airport will open to the public in September. NPIL expects to start manufacture for the second stage in late July; and to start LVL deliveries again in November with building on site beginning in January 2019.
March 13th, 2018
Forest safety measures on show
Nelson turned on the spring sunshine to show a group of SFC executives the hi-tech harvesting techniques used in the Moutere forest owned by Tasman Pine Forests. They attended a field day organised by the Forest Growers Research (FGR), in the company of Louise Upston, the Associate Minister for Primary Industries. The innovative and safety enhancing products and equipment demonstrated have been developed by equipment manufacturers and logging contractors in conjunction with Forest Growers Research.
September 28th, 2017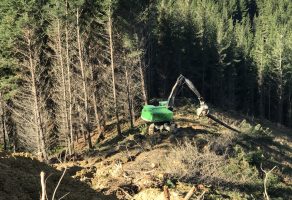 Arkay has the Edge
Arkay Benchtops in Christchurch is one of the South Island's largest benchtop manufacturers. "They have been using GoldenEdge MDF as their substrate for as long as I can remember," says NPIL South Island Area Manager Ken Spicer.
Late last year they made a decision to change from GoldenEdge Liteboard to GoldenEdge HMR (High Moisture Resistance).
"We wanted a point of difference in the market and to reinforce our focus on a quality product," said co-owner Steven Berry (pictured). "We, along with all the other fabricators, used to use GoldenEdge Liteboard as the substrate of choice, but we trialled GoldenEdge HMR and decided that it provided a superior substrate and consequently a superior end-product…hence the switch."
Ken Spicer says Arkay have not looked back and are currently as busy as ever on the back of a very buoyant Christchurch residential and commercial market.
March 12th, 2017
LVL proves itself in Kaikoura Earthquake
One of the many advantages of LVL is its earthquake strength, particularly when compared with concrete and steel in commercial multi-story uses. The recent Kaikoura earthquake put the new LVL building housing the Council offices, library and museum through its paces.
One of the engineers involved with the project, Andy Reid from CGW Consulting Engineers, flew down after the quake to see how the building had fared:
"We were glad to report that the building appears to have been scarcely affected by the shaking, with no signs of superstructure movement or distress; and no sign of wall rocking, dissipater yielding or wall displacement. There was some pavement and plaster damage, some movement at sliding joints, but nothing of consequence.
I'm not so brave as to say it has been through a greater than design level shake unscathed, as we all understand that different shakes have different frequency components and durations that affect different buildings variously. But certainly, it has fared well in a severe quake and certainly proved a timely asset for the incoming council to host the hundreds of visiting police, Civil Defence, Red Cross, NZDF and international navy personnel who leapt in to re-establish the essentials to the region.
Walking in confidently post-quake to start using the building in such a manner should be pretty pleasing to all involved."
March 12th, 2017