Arkay has the Edge
Arkay Benchtops in Christchurch is one of the South Island's largest benchtop manufacturers. "They have been using GoldenEdge MDF as their substrate for as long as I can remember," says NPIL South Island Area Manager Ken Spicer.
Late last year they made a decision to change from GoldenEdge Liteboard to GoldenEdge HMR (High Moisture Resistance).
"We wanted a point of difference in the market and to reinforce our focus on a quality product," said co-owner Steven Berry (pictured). "We, along with all the other fabricators, used to use GoldenEdge Liteboard as the substrate of choice, but we trialled GoldenEdge HMR and decided that it provided a superior substrate and consequently a superior end-product…hence the switch."
Ken Spicer says Arkay have not looked back and are currently as busy as ever on the back of a very buoyant Christchurch residential and commercial market.
March 12th, 2017
LVL proves itself in Kaikoura Earthquake
One of the many advantages of LVL is its earthquake strength, particularly when compared with concrete and steel in commercial multi-story uses. The recent Kaikoura earthquake put the new LVL building housing the Council offices, library and museum through its paces.
One of the engineers involved with the project, Andy Reid from CGW Consulting Engineers, flew down after the quake to see how the building had fared:
"We were glad to report that the building appears to have been scarcely affected by the shaking, with no signs of superstructure movement or distress; and no sign of wall rocking, dissipater yielding or wall displacement. There was some pavement and plaster damage, some movement at sliding joints, but nothing of consequence.
I'm not so brave as to say it has been through a greater than design level shake unscathed, as we all understand that different shakes have different frequency components and durations that affect different buildings variously. But certainly, it has fared well in a severe quake and certainly proved a timely asset for the incoming council to host the hundreds of visiting police, Civil Defence, Red Cross, NZDF and international navy personnel who leapt in to re-establish the essentials to the region.
Walking in confidently post-quake to start using the building in such a manner should be pretty pleasing to all involved."
March 12th, 2017
NPIL is best known for its two products – MDF and LVL – but we also supply plywood, with the advantage that we can run it off in longer lengths (up to 9m) than most purely panel manufacturers.
We are sending long-length 21mm cross-band ply to our Melbourne customer, Qikpanel, along with LVL used for the flanges in their floor panels. They are working with another company, Vicbeam to create a flooring system that adds strength to the overall structure.
Another big advantage of the system is that it creates an instant work platform, which is especially useful in multi-storey apartments.
December 11th, 2016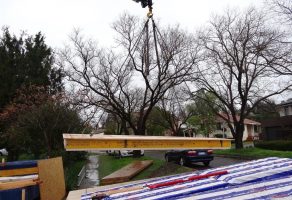 Stress skin floor panels going into a Canberra apartment.
Wide open spaces
The concept of 'open plan' can achieve really wide open spaces under a unique post and beam system using MDF and LVL, devised by Glenroy Homes in Marlborough.
Glenroy owner Philip Vine uses MDF notched into the studs, providing bracing that allows construction with more wide-open space. Phil has been using sawn timber, but like others in the building sector, is fast becoming a convert to LVL8.
.
December 11th, 2016
NelsonPine LVL shines at Mount Pleasant
Christchurch's new Mt Pleasant Memorial Centre was opened in mid-October. Designed by TV's Grand Designs NZ presenter, Chris Moller of CMA+U, the new building has replaced the heavily damage existing hall in this earthquake-hit suburb. Chris created an new form for the building, taking inspiration from the local estuary and its shellfish, a 'folded-wave' design. From the outside the building looks reasonably conventional, however inside, NelsonPine cross-banded LVL was used to create the structure and finish of the building. Inspirational engineering from Alistair Cattanach and his team at Dunning Thornton Consultants allowed for the building be basically screwed together, and utilised the superb engineering properties of NelsonPine LVL and the triangular structure to turn Chris's vision into a reality. Leighs Construction took on the daunting role of constructing this new design that needed to be  millimetre accuracy. The final result has the wow factor that we believe will bring in some international awards.
September 21st, 2016