Harvesting light to save energy
Over the summer the skylights above NPIL's MDF Line 3 were replaced, letting in a lot more light, in a measure that's technically known as 'daylight harvesting'. This is now saving on the power bill, and the same area is the first to come in for an LED lighting trial.
The new lights have movement and daylight sensors – if there's enough daylight they switch off, and if there's been no movement they dim after five minutes and switch off completely after an hour. It takes 90 percent less energy to produce light using LED, as there are over 1000 light fittings right around the plant, there are considerable savings to be made through LED conversion.
March 13th, 2013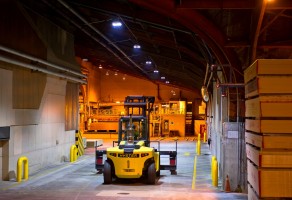 Singing the praises of LVL
NelsonPine LVL has a passionate new advocate with Jason Guiver contracted in the position of LVL Market Development Manager.
Jason has been involved in timber and joinery from his early teens. He gained a Civil and Structural Engineering degree at Trent University in the UK and worked on timber conservatory structures for a company that made over 7,000 timber conservatories a year for the UK and European market. Jason moved with his family to Nelson in April 2007 and joined Hunters, becoming General Manager in October that year, and gaining familiarity with LVL during the fabrication stage of the NMIT Arts and Media building. The company was sold in 2009 and Jason continued to work for the new owners until he moved to set up the NZ Wood Design Centre in October 2010, before joining us last month.
He is great believer in the capabilities and potential of timber: "It's the oldest structural building material but it has had the least amount of funding in research and design."
Jason and Peter are pictured, right.
Deputy CEO Peter Barr says Jason's challenge will be to convince architects and engineers to use LVL. They're used to the domination of concrete and steel in commercial construction, but we want them to look at LVL as an alternative, with its structural strength, fire safety, earthquake resistance, aesthetic appeal and environmental advantages.
"Jason was on the design team that won the 48 hour challenge to design a new CBD for Christchurch, and with the release of the new plans for that city focused on low rise there is plenty of potential for LVL," he says. "There is also opportunity elsewhere in the country, particularly in Auckland, with the large number of commercial buildings that are not going to meet earthquake specifications."
Jason will spend four days each fortnight in Christchurch.
September 20th, 2012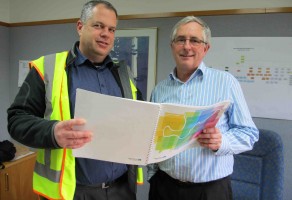 Hot oil flows east
Pipes have gone in from the upsized Line 1 oil heater to the LVL press as NPIL reaps the environmental and financial benefits of the biggest project in its push to save on energy use.
This was also one of the major jobs of the Summer Maintenance Shutdown, and carried on into the first quarter as the team from Brightwater Engineering worked with NPIL staff.
The savings will come from replacing one megawatt of electricity with one megawatt of wood-waste generated energy, in a measure that will save the company up to $400,000 per year.
April 20th, 2012
New executive appointment
Nelson businessman Peter Barr has joined NPIL as Deputy Chief Executive Officer of NPIL.
Mr Barr brings to this newly created position executive experience gained from his previous employment with BP Oil (NZ), and more recently as Chief Executive of the Tasman Rugby Union.
Long serving NPIL General Manager and former CFO Chris Turner is the current CEO.
Nelson Pine Industries Ltd Managing Director, Murray Sturgeon said the role of Deputy Chief Executive Officer has been created to provide a seamless continuity to the management structure of NPIL.
"It is imperative that the company has a succession management plan in place," he said. "Peter's appointment will bring freshness to the company, and will enable us to capitalise on the wealth of experience he brings to the group."
April 20th, 2012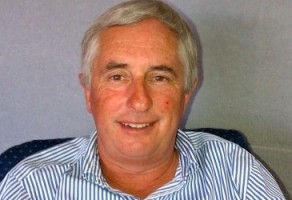 GoldenEdge MDF fits out Christchurch's 'Pop Up' Mall
When Christchurch's City Mall 'popped up', nine months after the February earthquake,  GoldenEdge MDF was part of the action. The Pop Up Mall fulfilled the promise of having the city centre open by Cup Week in early November, with retailers and cafes clustered around the centerpiece of the Ballantynes' department store.
The Pop Up Mall was created from shipping containers, and when South Island NPIL Representative Ken Spicer heard word of it he talked with some contacts of his at Placemakers Riccarton.
"They gave us the opportunity to put in a price and we won the contract to supply 25 packs of 12mm GoldenEdge MDF to Leighs Construction as the interior lining for the containers," he explains. "Timber battens were fixed to the interior of the containers and then the MDF sheets were put in place and sprayed with a white paint finish to achieve a top class surface."
The container fit out is by far the largest post-quake contract for raw MDF supply. Ken Spicer says the shopping complex is an extraordinary achievement, given that it was built in an eight-week time frame.
"Really when you're there and inside the shops you wouldn't know they were shipping containers," he says. "It's been very good for morale to have Ballantynes open and the mall up and going,  even though you can see the Grand Chancellor coming down over the fence."
December 19th, 2011