NelsonPine LVL
Laminated Veneer Lumber is an engineered wood product that provides a consistent, high-performance alternative to solid lumber and steel in structural uses. Click here for an overview of our plant and the LVL production process.
Nelson Pine operates one of the largest and most modern LVL production lines in the Asia Pacific region. We are continually working to improve and expand our product range.
Quality and Environmental Assurance
NelsonPine LVL is independently certified to the requirements of the joint Australia/New Zealand Standards for Structural LVL and Plywood by the Engineered Wood Products Association of Australasia (EWPAA).
JAS Japanese Agricultural Standard (JAS) certification is maintained for the Japanese market.
ICC-ES evaluation coupled with PFS certification for the North American market.
Carbon Footprint of New Zealand Laminated Veneer Lumber
EWPAA News
Projects and Presentations
Innovative LVL applications in commercial and multi-story buildings (PDF)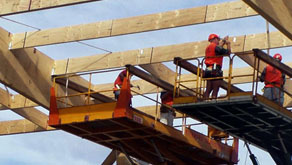 Videos
---

Product Information for Different Markets

New Zealand

Downloads

Distributors

Australia

Downloads

Distributors

North America

Downloads

Asia / Middle East

Downloads